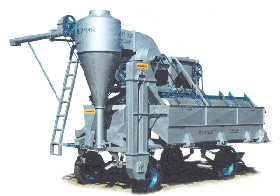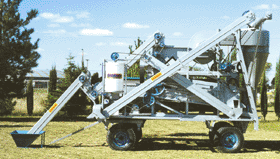 :: Other models of this product: > MB7
> MB7-1200
> MB10-1200


MB10
MOVABLE CLASSIFIER AND SEED CLEANER

This machine assembled over a chassis with four wheels with new tires, it is composed with two feed norias, a cereal scattered which allows to have a perfect curtain, this way the air works with effectiveness. The turbine with three aspiration channels of inclined plane, which works by specific gravity and with a cyclone that collects the light impurities. The drawer with three sifters, and swinging nylon brushes for it cleaning and a blind floor which allows a second passage for the grain to leave them free of impurities. All this is complemented with a classifier of changeable sieves to calibrate in its different measures, the treated seeds.


Technical Characteristics:
---
-Its performance depends on the seeds conditions, varying between 70/90

s

bags/hour in wheat and 80/100 bags/hour in soybean.
-Required power: electric engine 5 ½ HP
-Explosion engine of 12 or 18 HP.
-Sifters of 1,00 x 2,00 meters.