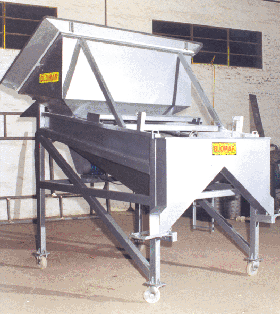 :: Other models of this product: > N-620 (30 tons)


N-621
SOLID FERTILIZER CLASSIFIER

This machine is similar to the one of 30 tons (model N-620) in building and functioning. This machine uses two eccentric engines in the place of one, the frame has a skate for displacement in the place of wheels, and the material is of a greater section.
Technical Characteristics:
---
-Maximum large: 3360 mm (upper hopper).
-Maximum height: 3300 mm.
-Maximum height of the entrance hole: 2560 mm.
-Clearance of transport ribbon: 900 mm.
-Upper hopper: volume 1,3 m3.
-Electric three-phase engine: 1,5 CV.