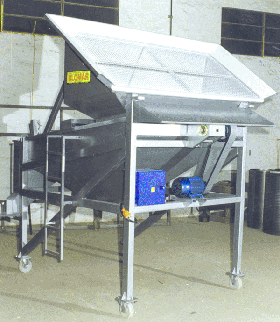 :: Other models of this product: > N-621 (60 tons)


N-620
SOLID FERTILIZER CLASSIFIER


This machine is specially manufactured for the treatment of the granulated fertilizer: It is composed of a frame, two hoppers, a sifter, an electric and eccentric engine and a discharge channel. A ladder and a bridge allows to get to the upper hopper, fixing over the frame, the inferior hopper is incorporated in this frame. Both hoppers possess a discharge with a register, so it is possible to regulate the material flux for an uniform work, specially in an intermittent loading.
The upper hopper, receives the material for the treatment, in the entrance hole, a wire mesh separate strange bodies and high sizes aggregates, the remainder falls to the sifter which is hanging of the frame, by ropes with a wave motion.
The material who pass through the sifter falls in the inferior hopper and is discharged in a hole situated in the middle plane of the machine, normally to a transport ribbon who works in a longitudinal direction. The material retained by the sifter is discharged to the sides of a channel provided of hooks for bags. The frame possess small wheels to allow the placement in work position. This machine is built with steel, the interior parts which are in contact with the fertilizer are covered with epoxy paint, and a base of polyurethane paint, the remainder is painted with anticorrosive and synthetic enamel.
Technical Characteristics:
---
-Maximum large: 2380 mm (upper hopper).
-Maximum height: 2800 mm.
-Maximum height of the entrance hole: 2025 mm.
-Clearance of transport ribbon: 900 mm.
-Upper hopper: volume 0,62 m3.
-Electric three-phase engine: 1,5 CV.